CORAL SPRINGS, Fla. -- A Saturday night in South Florida and the line is long, with hopefuls arriving seeking entrance. Sounds pretty typical for these club-going parts.
But it's not. Not at all.
You see, these people are waiting for an instructional class on curling, a sport that has seen tremendous growth with the coverage in the Olympic Games.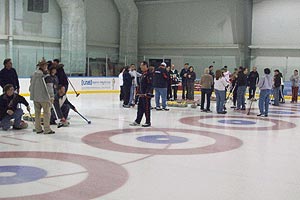 "Oh yeah, I think we are going to get a lot of people," fellow instructor Matt Redmond guessed.
Either way, it's the making of a future curling club. In South Florida.
"Curling now is divided up into nine regions throughout the USA. We are in what is known as the GNCC, which is the Grand National Curling Club. It runs the whole East Coast from the Northeast all the way down," Vice President and General Manager of Incredible Ice Jeff Campbol said. "There are 40 clubs now, we are not one, but we will become a club, hopefully by the fall we will have a club. It will be known as the Panthers Curling Club."
Tonight's class, some 50 people strong with others sitting above the ice spectating, began with a little instructional session in a conference room.
"First off, remember the obvious, folks. The ice is slippery," Campol began. True enough, and it drew some laughs. But that warning wouldn't make it much easier to actually stay upright.
When Watson asked who had been watching some of the curling in the Olympics, not a hand in the room stayed down. "Well we're not going to look like that tonight," Watson quipped.
After some safety instructions and a quick video, it was time to hit the ice. Literally, for many folks. One thing that doesn't come across very well on television (among many others) is how difficult it can be to stay upright with a slider on. It's a Teflon slip-on below your shoe that makes it incredibly hard to stay standing.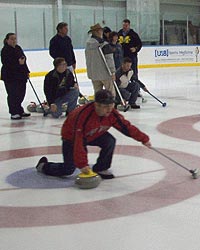 "I wish I could have done this before watching the Olympics, it would have really helped me understand how hard it is," another said.
After some trial runs, it was time for the real fun -- the games. And everybody playing took it up with the zeal of those having a great time.
"SWEEEEEEP!!!!!!"
"LET IT GO!!!"
Voices echoed across the rink.
The instructional section began at 10:30. And yet, the games continued until 1:30 in the morning. About the only thing bringing an end to the night were some yawns. Oh, and the promise of a frosty beverage waiting in the bar upstairs for post-game social hour, maybe the best tradition in curling. Can you imagine football players meeting immediately after the match and having some beers together? Perhaps the only sport that has a comparable tradition is golf, which also traces its roots to Scotland. Those Scots know how to have fun.
The plan is continue to have these Saturday night sessions at the facility for the foreseeable future. And why not? The interest continues to be immense, with waiting lists three or four pages long just to get in.
"It's really like a cult sport," Redmond said.
When it's catching this well even in the Sun Belt, it's hard to argue.