MIAMI -- It's time to ask the question. Again.
It was asked last season. Then Paul Johnson made everybody look silly for even asking.
"LSU beats us so therefore the offense is null and void ...," Johnson said sarcastically before the season. "You guys keep telling me it won't work."
But now it is starting to look silly.
Will the triple option work in the ACC?
It did last season. Georgia Tech's new version of the old-school offense ran through the conference like a buzz saw, making Jonathan Dwyer the ACC Player of the Year and an instant Heisman candidate.
But now, the second time through, you have to wonder.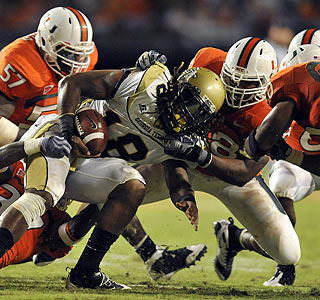 LSU was seemingly the first to crack the code, shutting down the Ramblin' Wreck in the Chick-Fil-A Bowl. Since then, the offense has been, well, a wreck.
Just look at the first two conference games this season. Sure, the Jackets put 30 points on Clemson, but 14 of those came on special teams. For three quarters of that game, Clemson dominated play and got back in the game.
Then there's Miami. The same defense Tech demolished last season, rushing for an embarrassing 471 yards. That's also the same defense that was carved up like a Thanksgiving turkey by Christian Ponder and Florida State on Labor Day.
What a difference a year makes.
The Hurricanes held Georgia Tech to only 95 yards rushing, 400 yards less in the difference of one season. It was the lowest rushing output by Georgia Tech since October of 2008.
"The coaches were really on us about tackling, tackling, tackling," Hurricanes cornerback Brandon Harris said. "They are going to grind, grind, grind you."
Grind? They certainly didn't tonight. A 2.4 rushing average just put them in a bind.
"Main point of emphasis, take Dwyer out and the rest comes crumbling down," Harris said.
Did the Jackets miss Dwyer, who didn't play after halftime with a shoulder issue? Perhaps. He is the main back. But even when he was in, you couldn't call him effective. Five carries for 8 yards was all he racked up.
"I think we -- as an offense -- should apologize to Yellow Jacket Nation," center Sean Bedford said, "because we've been talking all year about how much better we're going to be on offense, how we're going to execute and how you haven't seen anything yet. We haven't done that to this point."
The Jackets defense certainly didn't help the cause much, if at all.
"We didn't have the ball very much," Johnson said. "We got beat in all facets, some worse than others, obviously."
That's certainly part of it. Tech became the second team this year Miami has lit up for at least 30 points.
"I thought we were ready to play, but obviously we [weren't]," Johnson said.
The best drives of the night came on the opening possession of each half. For the rest of the game, Georgia Tech had next to nothing.
This was all with possessions routinely starting near mid-field thanks to Miami's horrific -- I don't think that word adequately describes the unit -- kickoff coverage team.
Of course, the penalties didn't help the cause either. A block in the back here, a false start there. Not a recommended strategy to move the ball the way you want.
But give some credit to Miami, too. A lot. The 'Canes shut down the offense, playing perfect, assignment football. Tech had some success hitting the edges early, but teams like Miami have too much speed to allow for that all game.
"Coaches made sure we were ready," Miami linebacker Colin McCarthy said. "Just playing our assignments and make them pass it."
Ah yes, the pass. The last thing Georgia Tech wants to do. Obviously passing isn't one of the three options, but when you fall down, sometimes it needs to be. Has to be. And for Georgia Tech, it flat out isn't much of an option.
So, mission accomplished for the Hurricanes. The Yellow Jackets actually had more yards through the air (133) than on the ground (95). Much of that came late, when the game was not much in question.
Johnson put it best.
"We're not as good as we'd like to be."
So we return to the question at hand. Can this offense work in a power league where the players are bigger, faster and stronger?
Despite three consecutive games of minimal production, the jury is still out. While it doesn't look promising after a rough night in Miami, it's too early to judge. You have to let a coach get his real stamp on a program with his own players. Remember, Johnson is still working largely with players he didn't recruit. If he's able to find a quarterback who can be a true dual threat, just maybe the Jackets will be able to take the next step. Until then, they might have to figure something out.
"It's disappointing, but we're in the same exact position as last year, when we had a chance to win the division," Johnson reminded. "It's a long year."
With the offensive struggles right now and the brutal part of the schedule only part-way through, it could be really long.